We implement our second Jean Monnet Project in a row with innovative methods in a creative and flexible way with school classes (8-12 years) in a Corona-compliant way.
All results and many impressions from our school workshops will then be published on the project website at the end of the project (October 2021): citizenship-edu.eu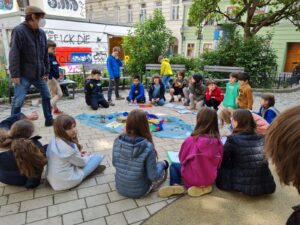 This research project is supported by the European Commission, "Education, Audiovisual and Culture Executive Agency", under Erasmus+ A1: "European Higher Education" (620333-EPP-1-2020-1-AT-EPPJMO-PROJECT). All project details can be found in the official Erasmus+"Project Card".
The following schools are active in Jean-Monnet "ES_DAC":
VS Langegasse 1080 Wien
VS Pfeilgasse 1080 Wien
NMS Singriengergasse 1120 Wien
EMS Neustiftgasse 1070 Wien
GRG7 Kandlgasse 1070 Wien
VS Stiftgasse 1070 Wien
EVS Goldschlagstrasse 1150 Wien
VS Nassereith/ Tirol
… und im Sommer folgt die "Kinder-Uni"-Wien.
Thank you to all the school principals and teachers of more than 25 classes who helped to implement this important project for our young citizens and our European society, especially now, in times of pandemic!
Successful cooperation with the NMS Singrienergasse (1120) as part of our current Jean Monnet (E+) project, as reported by the "Bezirkszeitung Meidling"!